07 May 2015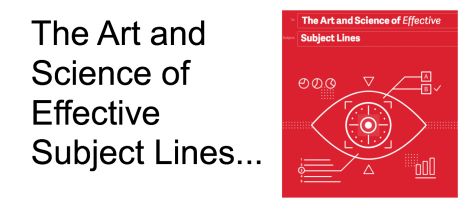 A new research study last week on email marketing subject lines was published from Data solutions company Return Path. The findings from 'The Art and Science of Effective Subject Lines' show that many of our assumptions about what works in email subject lines may not be correct.
The company, who specialise in helping mailbox providers deliver wanted messages while blocking spam and abuse, analysed more than 9 million messages sent by well known global brands.
The most surprising finding was that click-bait subject lines - where sensationalist headlines are used to lure in readers - are amongst the least effective headlines.
Common click-bait wording include:
What happens next will shock you...

You Won't Believe this shocking secret...

With this one weird trick…
While Return Path's findings says that click-bait titles don't work on email, there is circumstantial evidence backing its use on Facebook. According to this research, published in January this year, 'listicles' - where titles promise a list of tips, tricks, links, etc - are shared frequently on Facebook.
Interestingly, this Minimaxir research also states that there is a "positive correlation between 'listicle' size and the number of Facebook shares it receives: A 30-size listicle receives many-multiples of shares more than 10-size listicles."
Another often-used marketing technique, where the sender includes words such as 'save', 'sales' and 'clearance' coincided with low performance, state Return Path's press release.
However, what did seem to increase engagement were urgency-based subject lines, where terms like 'limited time' and 'last chance' were used. Check out the full Return Path report at http://returnpath.com/wp-content/uploads/2015/04/RP-Subject-Line-Report-FINAL.pdf
Return Path will be presenting at our inaugural e-Crime & Information Security conference in Hong Kong on 11 June.
The topic, 'Avoiding Negative Headlines and Costly Recovery from Email Fraud and Brand Abuse', will be presented by Return Path's Theo Noel, Regional Director in APAC.
This talk will cover the following topics:
Why email fraud continues to command news headlines?

What is DMARC and why is it important for combatting email fraud?

How early adopters have benefited in protecting their organizations in the digital age

Putting DMARC in context and understanding its role in email fraud prevention
We very much hope to see you there. For more information about venues, speakers and our conference agenda, visit e-Crime & Information Security conference.


Tags:

click-bait

Return Path

e-crime

Hong Kong

event

June

conference