09 Jun 2015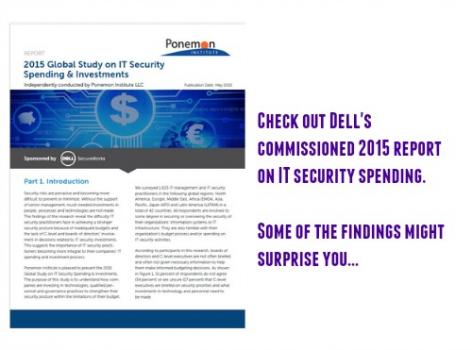 Dell
 has commissioned independent research institute 
Ponemon
 to run a study that surveyed 1,825 IT security and IT leaders in 42 different countries around the world.
The report, entitled 
2015 Global Study on IT Security Spending & Investments
 looks into the challenges with today's approach to security spending and investments, highlighting key findings in overall expenditures, the budgeting process, where spending takes place and the misalignment between budgets and areas of greatest risk.
Key findings include: 
50% of the respondents said their board of directors and C-level exec are not given necessary information about security priorities and investments. 
58% did not think or were unsure if their organisation possessed sufficient resources to achieve compliance with security standards and law. 
72% of Security and IT leaders believe improving the organisation's security posture is most important, while 83% of security and IT staff members think it more important to focus on minimising down time. 
 

Is it surprising that the staff that manage the day-to-day security and IT headaches want to minimise downtime? I don't think so. Day in, day out, these are the people who see what issues take the most time and resources to manage and resolve. 

 

This is not to say that the security and IT head honchos are wrong in their focus on their overall corporate security posture. After all, they spend their time at conferences and reading research that explains what dangers are around the corners for today's businesses, institutes and enterprises.

But a balanced approach of minimising resource-hungry tasks while focusing on creating and maintaining the overall security and IT strategy MUST be key for an organisation determined to deflect attacks and leaks while remaining competitive in the market.

Perhaps a focus on educating tomorrow's IT and security leaders through regular briefings of dangers, combined with regular IT meetings to review what IT security tasks need addressing might make for a leaner and meaner provider of goods and/or services. 

 

This and many more topics of discussion will be discussed during this month's e-Crime and Information Security Congress 2015: 

 


Tags:

Dell

research

statistics

2015

report

Ponemon

security

infrastructure