Strategic Sponsors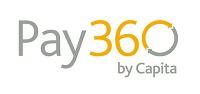 Pay360 by Capita is the largest independent PSP in the UK with offices in London, Bath and Greater Manchester. Operating in both the public and private sector, we service a wide array of clients ranging from government to Retail and in 2016, processed and managed over 225 million transactions valued at £9.5bn worth of payments.
Our 360 suite of products range from online, face to face and phone payments, to value added services which help merchants to better manage and optimise their Reporting and Risk management requirements.
In the last 24 months, we've made significant investments in both our new Advanced Payments and Optimize360 platforms in order to serve the complex, emerging needs of e- and m-commerce businesses.
We've been at the forefront of card security for over 12 years' achieving PCI Level 1 compliance in 2005 and PA-DSS compliance in 2009. We were was also amongst the first PSP's to release 3DSecure in 2005.
Pay360 by Capita is part of the Capita Software Services division and wider Capita Group.
---
Education Seminar Sponsors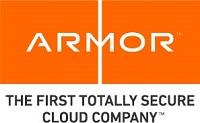 Armor is the first Totally Secure cloud company that protects customers' vital assets and helps prevent data breaches through managed multi-layer security for public and private clouds. The Armor team also applies extensive military cyber security experience for proactive threat detection, response and remediation. Forward-thinking organizations trust Armor for data security and compliance to stay ahead of cyber threats in the cloud. To learn more, visit
www.armor.com
or follow
@armor
.
---

Barclaycard, part of Barclays Bank PLC, is a leading global payment business that helps consumers, retailers and businesses to make and take payments flexibly, and to access short-term credit and point-of-sale finance. In 2015 we processed over £293bn in transactions globally. Barclaycard is a pioneer of new forms of payment and is at the forefront of developing viable contactless and mobile payment schemes for today and cutting-edge forms of payment for the future. We also partner with a wide range of organisations across the globe to offer their customers or members payment options and credit.
https://www.home.barclaycard/
We've an unrivalled reputation for delivering innovative and practical ways to help merchants fight fraud and reduce data security risks supported by an extensive range of educational and awareness initiatives. Examples include research into:
---

PCI Pal is a suite of solutions designed to help run your customer contact operations in adherence with the Payment Card Industry Data Security Standard (PCI DSS). PCI Pal solutions have been developed for the contact centre market by a team of contact centre specialists. When it comes to PCI compliance, PCI Pal are pioneers in the customer contact space.
We have a long history of agent assisted and fully automated contact centre payment solutions. From our own experience we know how difficult and costly adhering to PCI compliance can be. Our aim is to make it as easy as possible for you to become compliant for all of your payment needs.
PCI compliance for any contact centre is a challenge, whether you have 20 staff or 2,000. We have developed a pragmatic approach to compliance which marries risk reduction with operational efficiency. As contact centre people, we believe strongly that the operational running of the contact centre must, above all else, be the priority. PCI compliance should be achieved to benefit operations using a risk reduction and cost model quantifiable to payments, which are ultimately what PCI compliance is there to protect.
We are able to integrate our truly cloud based offerings through a variety of methods making the transition to compliant payments simple and low risk. We cover a broad range of PCI environments with solutions across agent-assisted payments, automated payments, live agent outsourcing, call recording, and legacy data cleansing and protection.
---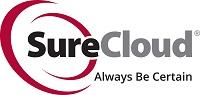 SureCloud provides Governance, Risk & Compliance (GRC) Applications and Cybersecurity Services that give our customers certainty – of risk management/compliance, of cybersecurity, of having answers today and tomorrow.
From
GDPR Compliance
to
Cybersecurity Solutions
- we exist to help CISOs, CIOs, risk and compliance leaders, legal teams and others answer critical questions:
Are we managing risk or is risk managing us?
Are we compliant?
Is our information technology secure?
Are we certain . . . today, tomorrow?
Our goal is that when the board, senior management, regulators and auditors ask these questions, our customers not only have readily available answers but "certainty of knowing." That's why our promise to our customers is "Always Be Certain."
Our strength emanates from the innovative Cloud-accessible SureCloud Platform, which is easy to install, easy to learn and easy to use, and comes with budget friendly pricing that dramatically reduces total cost of ownership. The SureCloud Platform simplifies complexity by creating a single source of truth.
Established in 2006, SureCloud has more than 400 customers throughout the UK and US from the Retail, Financial Services, Government and other sectors. Always Be Certain" is our Brand Promise. For more information visit
www.surecloud.com
---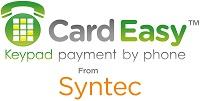 De-scope your contact centres from PCI DSS whilst enhancing the customer/agent experience
CardEasy is Syntec's proprietary DTMF solution for customer 'keypad payment by phone' and de-scopes your contact centre environment from PCI DSS controls, whilst ensuring your MOTO card payments and call recordings are PCI DSS compliant.
CardEasy is trusted by consumers, as it removes the need for them to read out their card numbers over the phone (which they really don't like). By asking them to enter their card numbers using the keypad of their own phone instead (Mid-call with the agent or via self-service Autopay), PCI monitoring and audit requirements for merchants' call centres are reduced to the bare minimum, as the sensitive card numbers no longer enter your call centre environment at all, cutting out compliance costs and hassle whilst improving customer service and trust. The agent/customer experience is not interrupted as the agent remains on the call throughout – no handoff to an awkward IVR system – and the system reduces average call times and reduces the mis-keying of card data too.
Flexible CardEasy deployment
CardEasy is supported by (and integrated with) the leading industry payment gateways and is designed to be universally quick and easy to implement.
It works either as a fully hosted managed service; partially premise-based (CPE); or entirely cloud-based, for larger enterprises and international use.
It is designed to be CRM and telephony agnostic – you can rely on our in-house advice and expertise, but CardEasy works with your existing telephony and back-office systems, there's no requirement to use ours.
Syntec – Integrated Contact Centre systems
Established as Syntec Telecom in 1998, Syntec's multiple switches and platforms are all owned and maintained by the company, as is our multi-channel cloud contact centre management software.
Syntec's suite of managed services for contact centres includes
SynPBX
hosted services;
AgentCall
, for web-based agent management, call distribution and IVR plus call diversion/disaster recovery; and
ResponseTrack
call tracking & analytics, with real-time ScreenView caller information display.
Syntec Limited.
www.syntec.co.uk
t. 020 7741 8000
e. info@syntec.co.uk
CardEasy video/demo:
http://www.syntec.co.uk/pci-dss-solutions/cardeasy/
---

TokenEx is an enterprise-class tokenization platform that offers virtually unlimited flexibility in how customers can access, store, and secure data. TokenEx extends flexibility by working with multiple data acceptance channels and by maintaining a processor-agnostic approach. Moreover, TokenEx is able to tokenize and secure almost any data type your company works with, including payment card data, personal information, PHI, and even unstructured data formats. TokenEx tokenization and encryption are recognized forms of pseudonymization for GDPR. With Tokenization- No Data, No Theft!

Learn more at TokenEx.com how tokenizing sensitive data sets reduces PCI compliance. With TokenEx, No Data, No Theft. Follow us on Twitter and LinkedIn.
---