Sponsor Information / Exhibitor Manual
FAQs for sponsors at Virtual e-Crime & Cybersecurity Congress Benelux, 1st December 2020
If you cannot find the information you require on this page below please contact Eilidh Marshall, Event Coordinator, AKJ Associates, Email: eilidh.marshall@akjassociates.com

This event is organised by AKJ Associates. 4/4a Bloomsbury Square, London, WC1A 2RP.
1) Conference logistics:
The Venue

Where does the event take place?
The 'venue' is a series of web pages each of which is a representation of a room or area of a physical event. Like a hotel venue it is extremely simple in terms of layout.
The graphical representations below are not complete and are subject to change. However, they are based on the templates that will be used in the finished venue. The main areas are:
A lobby: this is where delegates 'land' when they login and they can return to it whenever they want via links and a global menu bar which stays visible at all times. In the lobby there is:

- a clickable agenda sign which is one way to obtain the agenda and e-magazine PDFs

- a help desk sign which links to the AKJ stand in the exhibition hall, manned by AKJ staff all day to answer

non-technical sponsor and attendee questions via a chat function

- a welcome video screen (and we can trigger a welcome video for each attendee when they first enter)

- a menu (not shown) which gives access to other functionality

- large signs to the other areas which are: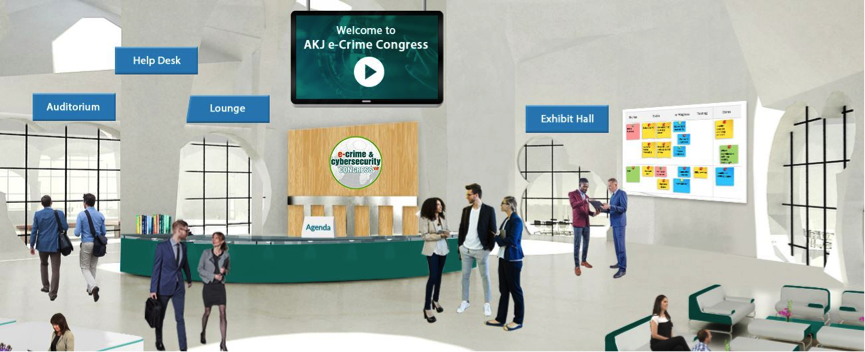 2. The auditorium: this is the page delegates go to in order to view presentations. They are accessed from the lobby page via highly visible signs – which are links that launch the next web page. Each presentation has its own chat stream and anyone logged in can join the chat. This is explained in more detail below.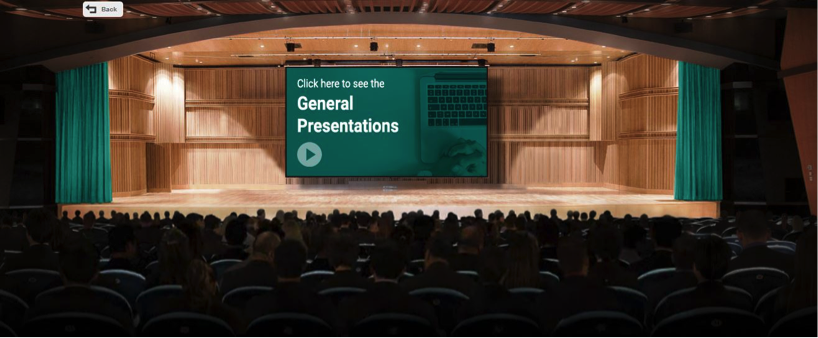 3. The exhibition area: this too is accessed via the lobby via a sign. When a delegate clicks on the sign they open a page on which all the sponsors are represented with their logos. The delegate can then click on the logo which launches a page on which their booth appears. Booths have the facility to play video, store PDFs and engage in chat.
4. The chat lounge: as well as the chats attached to presentations in the auditorium, and the chat function attached to booths, attendees can chat to each other in the all-event chatroom. This can be accessed in various different ways but one way is via the chat lounge page.

All areas can be accessed either by going back out into the lobby, or, in some cases, by menu items that depend on the page you are on.
Booth guide
On entering the exhibit hall at the event, delegates will see a list of booths which will be identified by the exhibitor's logo. They can click on each of these in order to enter specific booths.
Your booth at the event will be set up for you by AKJ in advance and will be based on this template: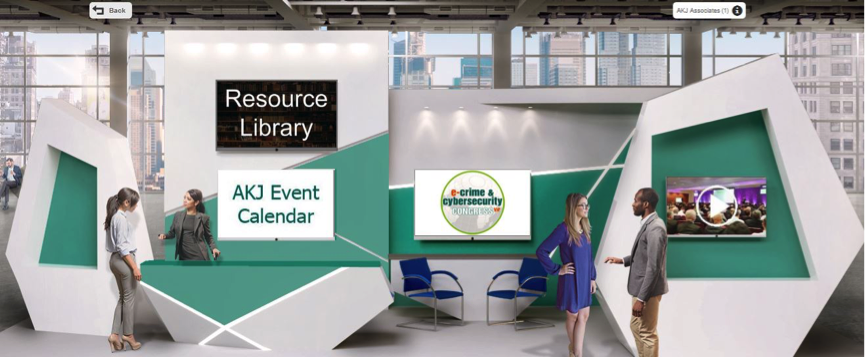 One of the screens will feature your logo, which can also function as a link to your website. The other three screens can show a graphic or a simple text-on-background button which we can generate, and can be left as unlinked images/gifs, or do the following when clicked:
Play a video

Open a pdf

Open a 'resource library' showing a list of digital resources you would like to share with attendees (including videos, documents and

audio files)

Link to an external site

Link to another area within the event

Between your three screens you can choose any combination of the above; however, our strong recommendation in order to maximise attendee engagement would be to use the screens to display:
- Screen one: one featured video (e.g. a recent webinar, product explanation video)

- Screen two: one featured pdf (e.g. a recent white paper on a topical subject)

- Screen three: one resource library containing around five items (you can add more than this, but it's likely to result in delegates being overwhelmed by choice). A good guide would be to think about the number of marketing brochures/ handouts that you would have on your stand for distribution at a physical event.
Customisability
The most obvious piece of customisation is that we will need your logo to add to your booth. You may have already supplied this to us for our website – if so we will use this unless instructed otherwise.

By default, the booths will use the colour scheme of the event platform. If you would like your booth to use your branding colours instead, please let us know and we can make the necessary edits.
Other than that, if you send us graphics for the three screens at your booth, we can use these; otherwise, we can create simple text-on- background buttons e.g. 'Play our video', 'View our whitepaper', etc.
Booth representatives
You will need to inform us of a full list of your booth representatives in advance, so that we can register them for the event and give them the appropriate privileges. We will need first and last name, job title, company name, and professional email address.
If you have a speaking session and would like your speaker to be included as a booth rep, you will need to include them on the list of representatives.
Booth representatives will be able to see a 'rep dashboard', which will show them the attendees visiting their booth. This will also allow them to start 1:1 chats with these attendees, as well as to send private messages to each other. Attendees will also be able to see a list of representatives in a booth, and start chats with them, or send a message to their 'email inbox' (in-platform) if the representative they want to speak with is inactive (e.g. taking a lunch break).
Below is a little more detail on how the booth will work from the rep's point of view. (The booth in the example is the AKJ Associates company booth which will act as a help desk during the event and will be staffed by AKJ all day).
The booth screenshot above is in 'rep view'. The info card in the top right (which can be turned off) shows a brief company description, social media links, plus list of booth reps and links to message them. Booth reps will see a 'rep dashboard' button
If they click on 'rep dashboard' this window will pop up

The info card opens automatically when delegates first enter a booth, if they close it, it will minimise to the top right: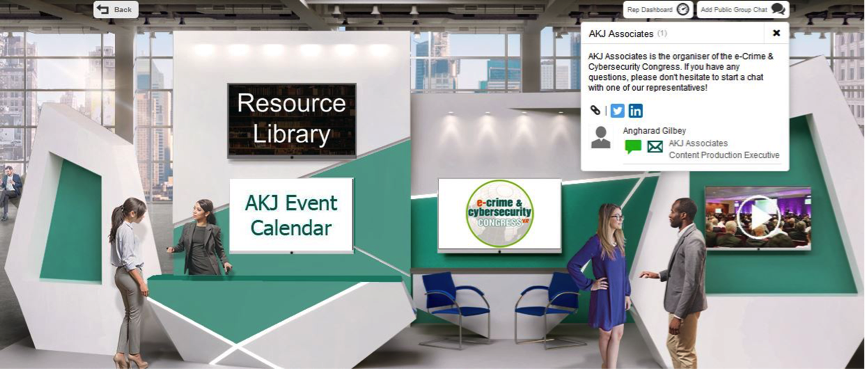 File types
You can send us the following materials for inclusion in your resource library or as a direct link within your booth:
Video: mov, mp4, mpg, wmv [our recommendation is mp4]
Video from embed code: please send us the full embed code for your video hosted elsewhere, e.g. YouTube, Vimeo, Ustream
Audio: mp3, wav
Document: pdf
As content will be uploaded in advance, we will be able to test items and ensure they are displaying properly, and we will of course let you know of any issues.
Event timings
Timings are subject to change.
Tuesday 1st December 2020
08.00 – 09:05: Delegate registration and breakfast networking
09.05 – 17.30: Conference presentations and networking breaks
17.30 : End of conference
*Please Note: Someone from your team will need to be available at all times during the day from 8am CEST on the platform at the virtual booth in order to interact and answer questions from delegates.*

Delegate Lists

Can I get a copy of the delegate list before the event?
No. You will be sent an electronic delegate list on the day of the event.

If I have any questions about the delegate list who can I ask?
Your Account Manager will be happy to assist you with any questions you might have regarding delegate lists.

Who would be the best people to attend this event from my company?
As the delegates at this event will be very senior we recommend you send experienced sales and technical professionals who can converse with this calibre of attendees. Please contact your AKJ Associates account manager for more tips on using the event effectively.

What leads will I receive?
We will collect the lead details of those delegates that have attended your presentation or visited your virtual booth. If you are engaged in a private chat with a delegate directly, please ensure that you direct the delegate to your booth also so that we are able to capture the lead details for them.
Sponsor Delegate Tickets


Can I register sponsor delegates on the day?
No, all sponsor delegates must be registered beforehand by providing their name, job title, company name, phone number and email address at least two weeks prior to the event.

Where should sponsor delegates report into on the day of the event?
The week prior to the event, your attendees will receive their own unique log-in details only to be used by that person and not shared. On the morning of the event your sponsor delegates will be able to log in to the platform with these details.
2) Deliverables that might be part of your conference package:
Company Profile & Logos
Where will my company profile and logo be displayed?
On the event website
In the event guide and event e-magazine
On your virtual booth
How long can my company profile be?
300 words maximum. We encourage you to include your preferred company URL link. You are most welcome to tailor the profile to suit your participation and the target audience. Please note only one version of your company profile can be accessed throughout the website regardless of the event sponsored.

What format do I need to submit my logo in?
High resolution .png with transparent background
.eps for the event guide (and stage graphics for Strategic Sponsors)
Do I need to re-submit my company profile & logo, if I have already sponsored an AKJ Associates event?
If you have sponsored an AKJ event in the past, we will automatically use the same company profile & logo you have already submitted. We are, however, happy to update or change it on the current event website at any point in time. We can also update or change it in the event guide up to two weeks before it goes to print.

Presentation Details

What details do we need to provide regarding the presenter/s?
For each presenter we need to know their job title, company name, email & mobile number, so that our Content team can contact them regarding their presentation.
A speaker biography (maximum 300 words) is also required for the event website and the event guide distributed to delegates on the day.

Where will my presentation details be used?
Your synopsis will be used in marketing communications, on the event website and in the event guides distributed to delegates on the day.

When do I need to submit the presentation videos?
The presentation slides need to be submitted as per the deadlines agreed prior to the event directly to the Content team.

When will I find out the agenda timings?
The agenda will be available on the event's website two weeks before the event.

How do I know if we are presenting a plenary session or an education seminar?
Please check your contract to confirm the type and number of sessions you are presenting, if any.
What are the types of presentations and what is their audience?
There are two types of presentations: plenary sessions and education seminars. Plenary sessions last 20 minutes and are delivered to the full delegation.
Education seminars run concurrently for 30 minutes.

Plenary Presentations
Plenary synopsis:
The synopsis should contain a title and three bullet points of information.
Some examples can be seen in our e-magazine for the e-Crime & Cybersecurity Congress 2020, by clicking here
Each session's 20-minute plenary speeches and 30-minute Education Seminars will run one after the other on a timed-access protocol. This will work as follows:
All presentations, and Education Seminars, are listed on the menu page that users encounter when they enter the auditorium and attendees must click on a presentation to view it.
Before the scheduled time for each presentation, the 'play' button will read 'scheduled' and the time of the presentation will be displayed on the right with a countdown timer. When the scheduled time is reached, the legend on the button becomes 'play' and the presentation can be activated by the attendee.
The button remains at 'play' for 20 minutes – that is, an attendee can be up to 20 minutes late for the presentation and still view it in its entirety.
When a presentation is no longer available to view (i.e. 19 minutes after the scheduled time) it disappears from the list. So, over the day, the agenda menu slowly moves up the screen, with old presentations dropping off, until by the end of the day, nothing is left.
Speakers will ideally make themselves available on chat for the full theoretical length of time the presentation could be watchable. So, for example, a presentation scheduled for 10.00 – 10.20 will be watched by most people between those times; however, people can watch the whole video, starting at any time from 10.00 until 10.20. Theoretically therefore, someone could start watching at 10.20 and finish 20 minutes later at 10.40. (For Education Seminars people will also be able to watch up to 20 minutes late.)
The AKJ live chairperson will be in chat all day and will help to prompt discussion with their own questions and comments.
Regardless of latecomers, we will broadcast an 'all rooms' message to all attendees at the end of each presentation/beginning of the next, thanking the speaker and introducing the next presentation (Education Seminar / Networking Break) to ensure that attendees are aware of the scheduled structure
This means that speakers do not need to worry about continuity: they should start their videos with a generic introduction ('Hi, my name is X and it's great to be able to share some insights with you today' – type of thing). The best way to do this is to imagine that the video has to be re-used at several events after this one, and perhaps on your website, so the introduction – and the presentation itself – should be capable of working in a number of different contexts.
Education Seminars

Education Seminar synopsis:
The synopsis should contain a title, an introductory paragraph to the topic and four or five bullet points detailing what delegates will learn if they choose to attend the seminar.
Some examples can be seen in our e-magazine for the e-Crime & Cybersecurity Congress 2020 , by clicking here
We encourage you to make your outlines as catchy, valuable and relevant as possible because a number of education seminars run concurrently leaving the audience to choose which to attend based on this synopsis
Our experience suggests that delegates are more likely to choose a seminar that provides either practical knowledge on how best to overcome a challenge or information that they are unaware of relating to a threat
Each education seminar presentation is 30 minutes long. As with our physical events, the Education Seminars run immediately after each session of plenary presentations. When the last plenary of the session finishes, the AKJ chairperson will announce that the Education Seminars are now starting.
Seminars run in parallel, so attendees who will have watched the plenary sessions as a group will, just as in physical events, have to choose which education seminars to watch. They will do this from a menu which will be available in the auditorium window. This menu will describe each of the Seminars available and ask the attendees to click on the one they wish to watch. Again, just as with physical events, this makes the title and description of the Education Seminar extremely important as it is only this that determines the extent to which people will select to watch it.
Are Kalashnikovs the answer?
At one of our events a sponsor used the words 'Kalashnikov' and 'AK47' in the headline for their Education Seminar. When the plenary audience divided up to choose which Seminars to go to, this seminar was disproportionately favoured. Hopefully this anecdote illustrates a key point about content that we will return to. But first:

One Page Adverts

Where will my advert be used?
It will be used in the event magazine.

Should I follow any particular specifications?
Yes please follow the below specifications:
Images should be in .jpeg, .eps or at least 300 dpi format
All files should be supplied in CMYK formats i.e. no RGB, spot colours or Pantones
Page trim size = 210mm wide x 297mm high (A4 portrait)
If your AD does not have a bleed, please ensure that it fits within the above dimensions, with no important text or graphics within 5mm of the edge of the page OR Full page bleed = 216mm wide x 303mm high (i.e., an extra 3mm should be added to all four sides of the trim size to allow for any bleed)
Please supply the AD with crop marks
Please supply your advert in one of the following formats:

High resolution, print-ready PDF with all fonts and images embedded at 300dpi
Quark files with all fonts, images and graphics enclosed
Print-ready EPS, TIFF or JPEG files (Photoshop or Illustrator files)
Can I see some examples of one page adverts?
Yes. Please find several examples throughout our e-magazine for the e-Crime & Cybersecurity Congress 2020, by clicking here.
Articles

Where will my article be used?
The article provided will be used in the event magazine.

How many words long should my article be?
Please check your contract to confirm how many words your article should contain. Around 600 words will fit on each page, although it will be fewer if you include images. If you do include images please also send them as separate high resolution image attachments (.eps or .jpeg) along with your email.

What happens if I go over my word limit?
We can accommodate up to 10% above or below the word limit. If your article is significantly above the word limit we will kindly ask you to re-submit it. Alternatively if you have missed your deadline we will edit it down appropriately for you. If you article is significantly below the word limit we will request extra text or an image to fill the space where possible.

Should I submit my article in a particular format?
Yes, please submit the article in a Word Document format.

Who would be a good colleague to write this article?
Anyone who can provide useful, valuable or educational information. Do not forget to include the author's name, job title and company name when you submit the article. To encourage delegates to visit your exhibition stand we recommend the author takes this opportunity to demonstrate they understand the issues delegates are facing by providing one/some of the following:
A customer or anonymised case study including the challenges and solutions found
Examples of innovative projects and programmes that have had successful and proven results
Neutral advice on how strategic or technical problems can be solved
Insights on emerging trends in the industry and what they mean for strategies
Complementary details leading up to, or following on from a, presentation they will deliver at the conference

Do we need to include a bibliography?
Yes, please include a bibliography when you are referencing specific facts or sources. This is to prove the guidance you are providing is accurate.

How can readers of my article find out more information about my company?
Please include a closing sentence including your URL or contact details for those who would like further information. If you would like to reference an employee's contact details, please ensure you have their consent.


Will I see the article before it is printed?
Usually, yes. Once you submit your article, it will be formatted into the AKJ Associates house style by our design team. You will then be emailed a .pdf copy for your approval. Kindly note that if you miss the article submission deadline, we reserve the right to go to press without requesting or receiving your sign-off.

Can I see some examples of articles formatted to the AKJ Associates house style?
Yes. Please find several examples in our e-magazine for the e-Crime & Cybersecurity Congress 2020, by clicking here